Trusted by 178,000+ Customers and Retailers Worldwide.
As Seen On

Our Promise
At Maddest Mad Honey, we only sell Premium Strong & Potent Mad Honey.
___
Each batch is Lab-tested and MUST pass a minimum of 87% Rhododendron pollen rating.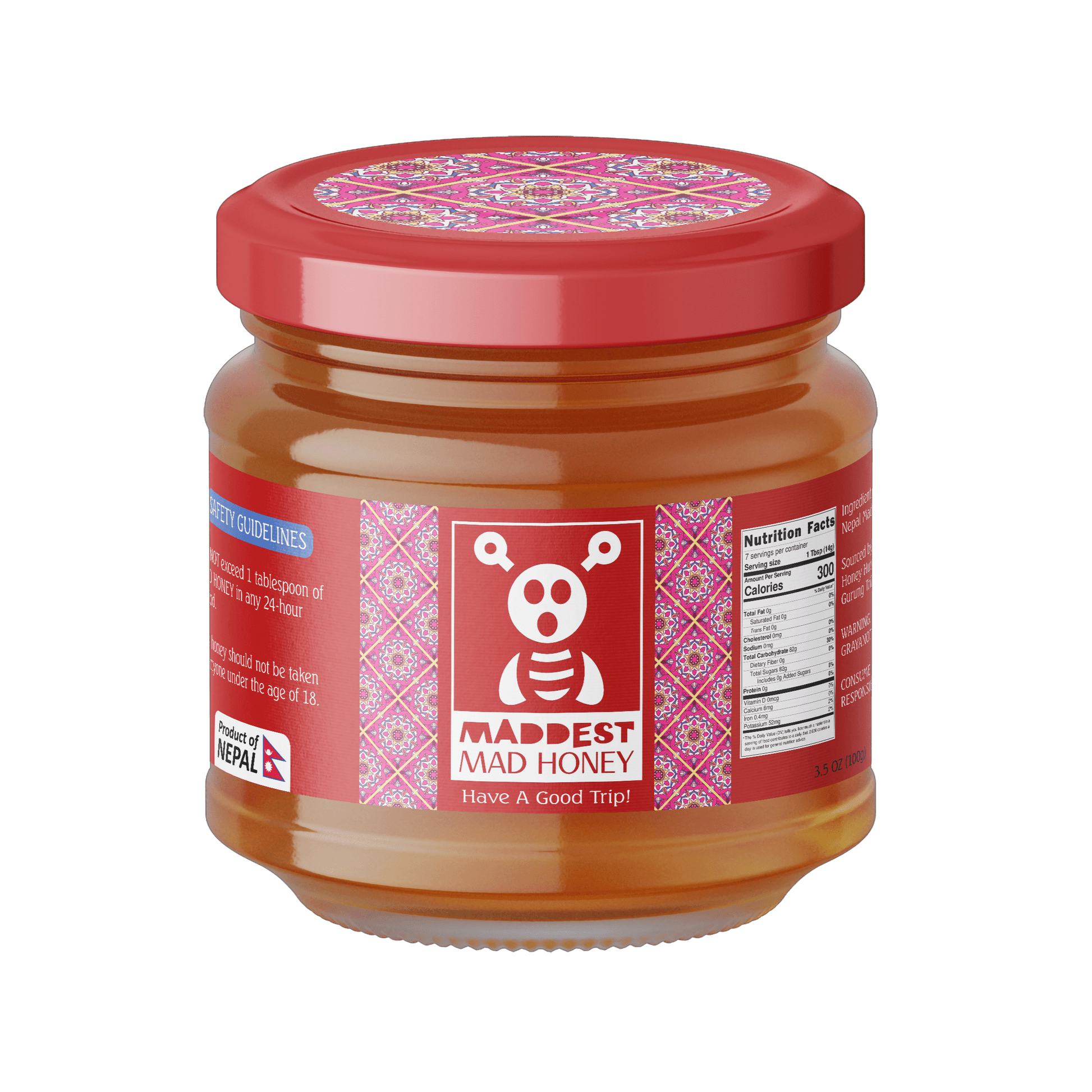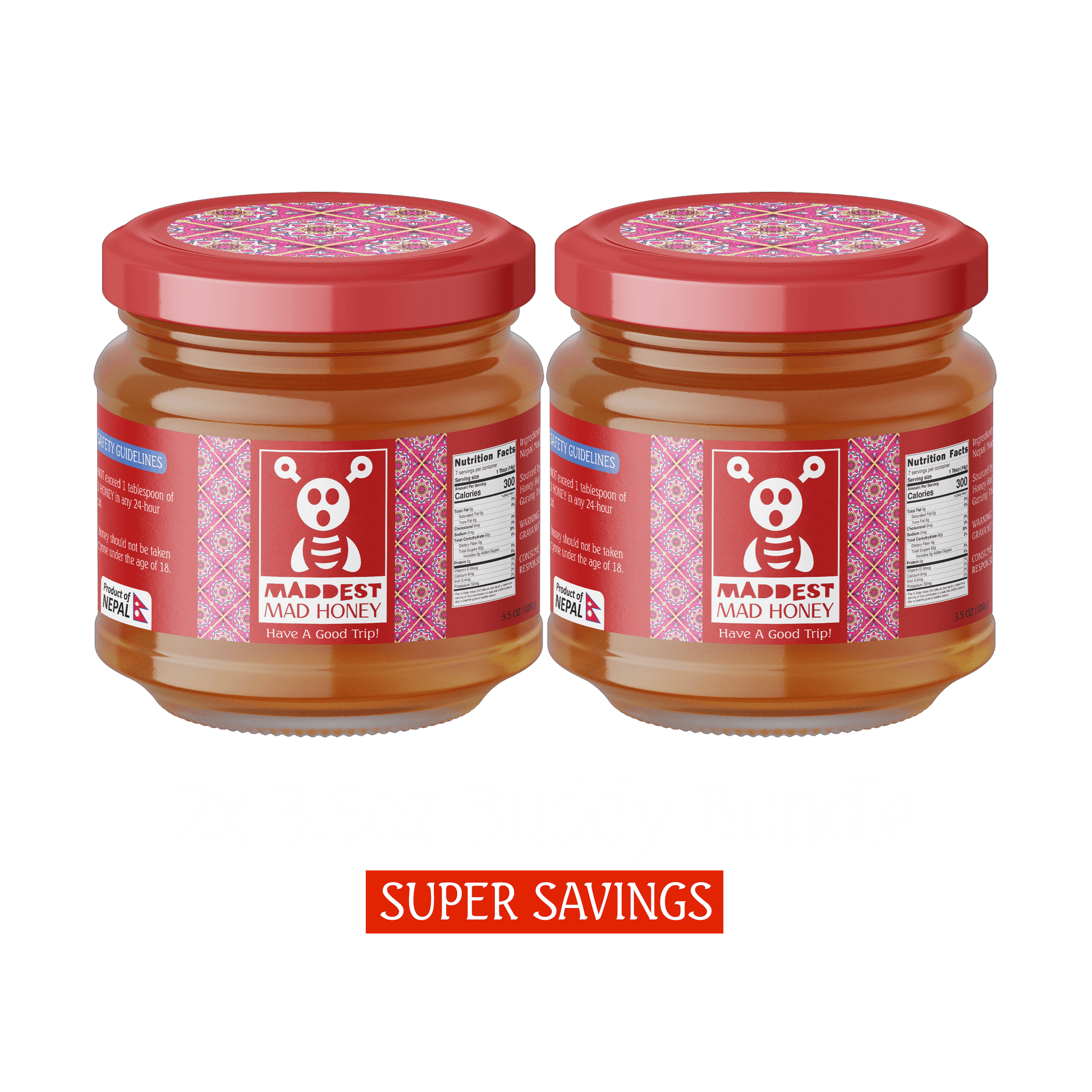 Nepal's MADDEST Mad Honey
Regular price
USD 139
Sale price
USD 114
Unit price
per
Sale
Sold out
View full details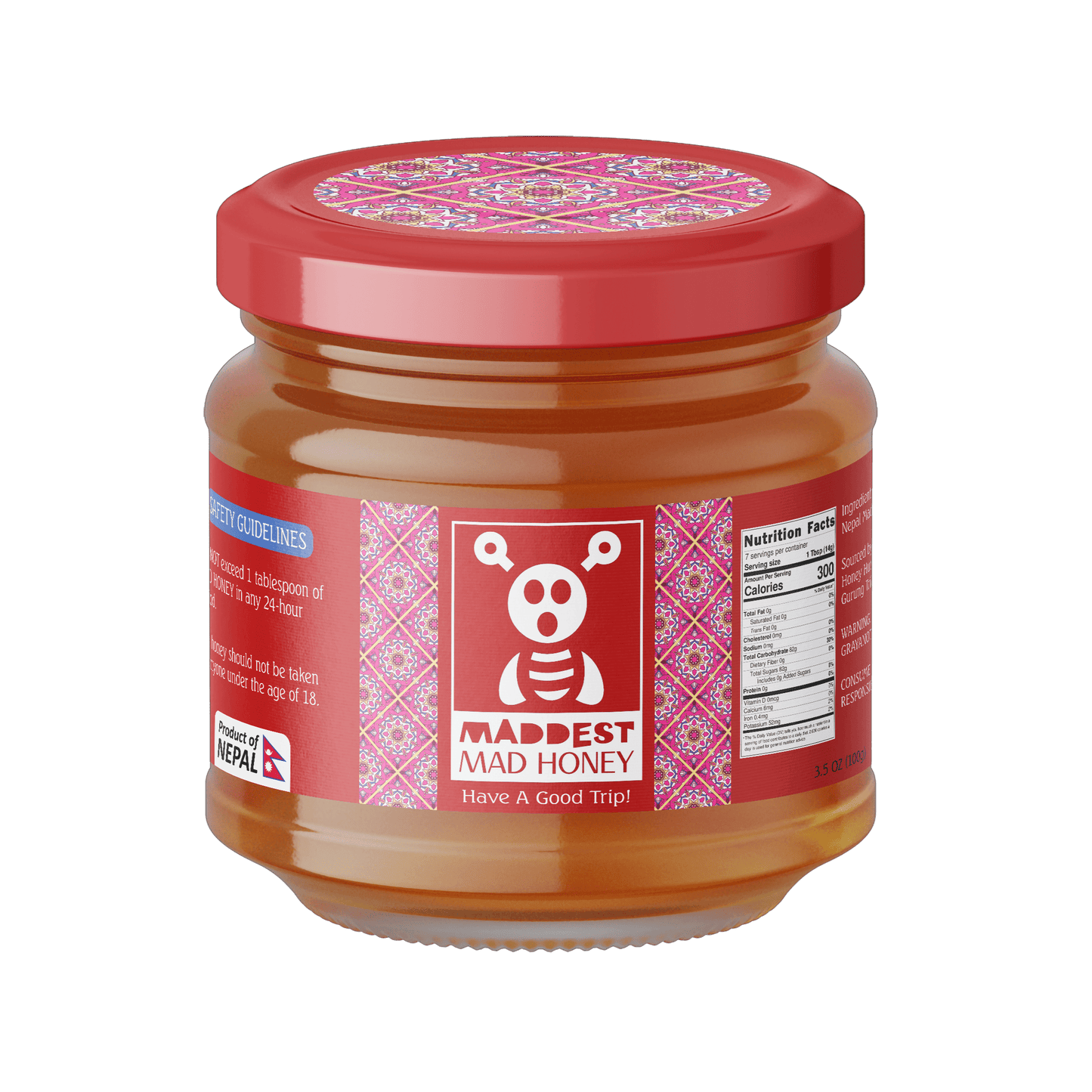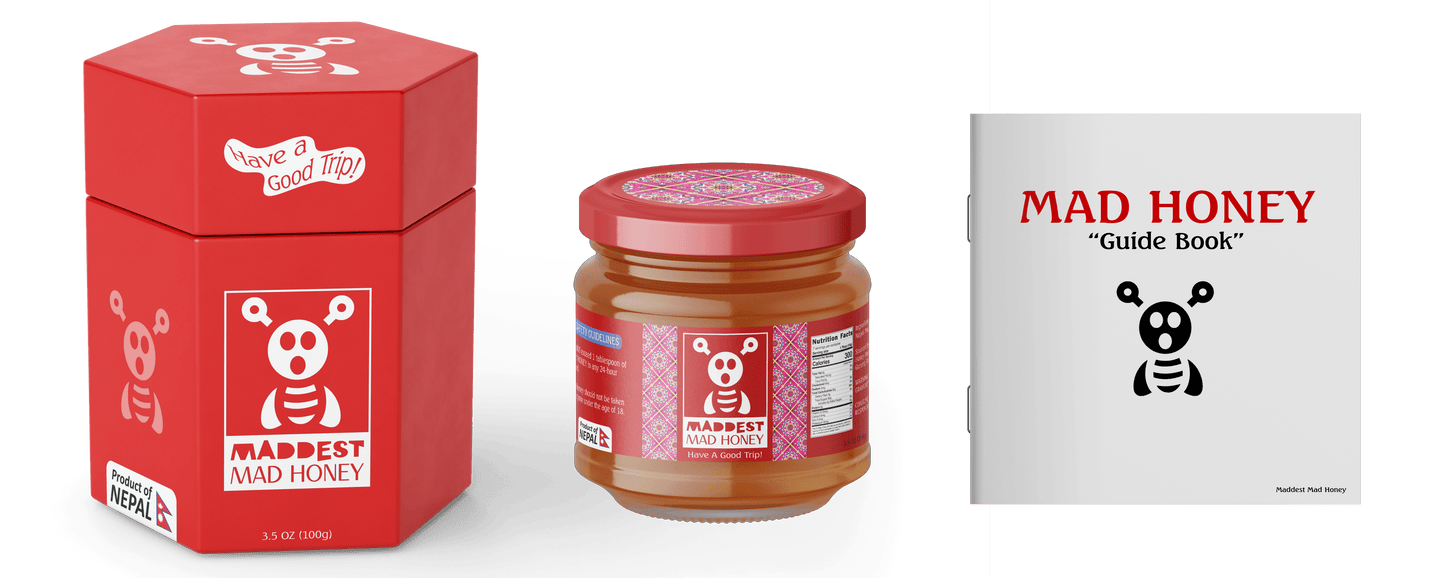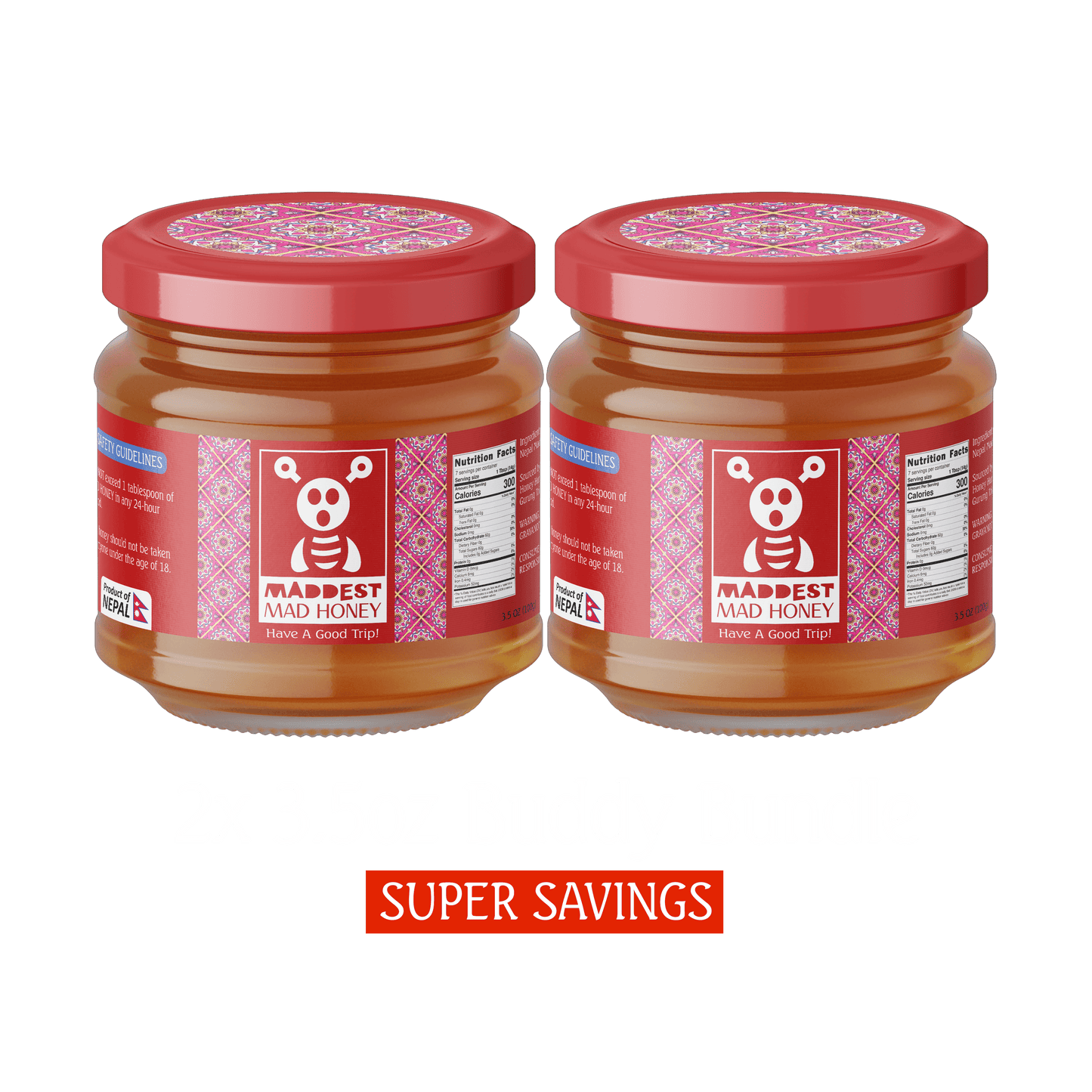 This Batch of Maddest Mad Honey was Harvested in: December 2023

-
VERY LIMITED QUANTITIES ARE AVAILABLE EACH HARVEST. ORDER NOW!
Product Info

Mad honey is crafted by the Himalayan giant honey bees that forage on select species of Rhododendron flora.
It holds Mystical attributes from Grayanotoxins found in the nectar of Rhododendron flowers.
Renowned for its capacity to Elicit Visions, Mad Honey is a rarity obtainable only in restricted amounts, adding to its allure.

Dosage recommendation:

1 tablespoon may procure mild to strong effects such as body relaxation, floating and dizzy feelings, change in brain activity, light visuals alteration.




2-3 tablespoons may induce intense effects such as increased brain awareness, surge of energy, euphoric sensations and alteration in color and brightness.

Refer to our FAQs for more info.

Disclaimer

This Product is not suitable for anyone under 18, pregnant women and people with high/low blood pressure.
Mad Honey Medicinal benefits:

Induces body relaxation and significantly enhances sleep quality.
Nutritional Values: Vitamins B1, B2, B3, B5, B6, Vitamin C , Calcium, Amino Acid etc.
Antioxidants that shield your body from cellular harm.
Antibacterial properties against Antibiotic-Resistant bacteria
Natural Aphrodisiac, Boosts Libido
Immune-boosting and Anticancer benefits.
Let customers speak for us
FAQ
Can I Ship it to my Country?

We ship Worldwide.

It is shipped as Regular Organic Honey, so there is zero risk shipping to stricter countries (South Korea, Singapore, Australia, Mexico, Brazil).

Wherever you are, you will receive your order or we will provide a 100% Refund Guarantee no questions asked.
Is it Legal in my Country?

Mad Honey is only illegal in South Korea.
About Consuming Mad Honey

For a more powerful effect, we recommend eating mad honey on an empty stomach.

Each body reacts differently to the grayanotoxin and effects may also vary due to body weight and lifestyles. 

We recommend starting with 1 teaspoon to gauge your body's reaction, gradually increasing to a maximum of 3 tablespoons per serving.

Effects should occur within 20 mins to 1 hour and usually lasts up to 3 to 5 hours. After-effects may last up to 24 hours.

Individuals with more sensitive and reactive bodies may also experience nausea, dizziness, blurred vision, sweating and increased blood pressure.
Taste

Mad Honey has a sweet and tart flavor. A faint tingling / burning sensation will be felt at the back of your throat.
Consistency

Mad honey is less viscous than regular honey. It has about 24% moisture content, whereas regular honey has about 18%.
Harvest Regions

Our Mad Honey is gathered by the Honey Hunters of the Gurung Tribe in Lamjung region, Nepal.
Post-Processing

There is no processing or pasteurization. The Mad Honey is only filtered to remove external particles and packed at its most natural form; raw and unpasteurized.
Lab Tests

Our Mad Honey is certified by Nepal's Ministry of Agriculture and tested by National Food Laboratory (accredited ISO 17025:2017).

We have also attained a European Certification and our Honey is tested in Europe for its purity, origin and quality.

These certified lab tests include:

Electrical conductivity (eC) = 1,77
Diastase number (Phadebas Amylase Test) = 9.5
Ph = 4,84
Pollen analysis = Rhododendron 87%

The research are carried out in accordance with the guidelines contained in the Regulation of the Minister of Agriculture and Rural Development of 14 January 2009 on the methods of analysis related to the evaluation of honey (Journal of Laws of 2009, N0. 17, item 94).
This is REAL Mad Honey. Please be careful and consume responsibly.